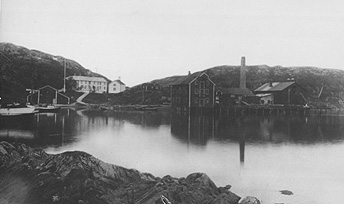 Childhood home Røssøy island.
Helga Risoy Biography
By Larry Wright
Helga 'Snowcat' Risoy, born on a cold October day, was raised by her grandparents, along with 5 uncles, in Northern Norway. Her home was on a small island and her school was across a narrow fjord on another, requiring her to row to and from school every day, often against a strong current.
Helga spent most of her time with grandparents, Reidar and Esther and 5 uncles, all working at the family fishing business, and on the fishing boats owned by her grandfather Reidar Risoy. Until she was old enough to sail, she worked after school on the farm and helping her grandfather, becoming strong and very independent early. All 5 uncles and Esther played instruments and sang, Helga picked up the guitar and organ and made up her own songs at early age.
Following advertising school and a short stint in the Army, she moved to Oslo, the capitol of Norway, taking jobs with ad agencies, starting her own ad company at age 20, then started another activity that became her passion for many years, kick-boxing and boxing.